Bluebell Railway Visit
29th June 2013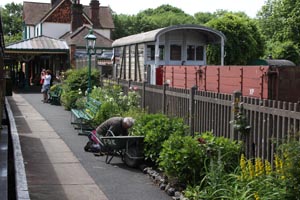 This year the Hampton Court Model Railway Society is celebrating its fiftieth year.
Through out the year we have arranged different activities in recognition of our golden anniversary.
One such activity was a club trip on the 29th June to the Bluebell Railway and its newly opened extension to East Grinstead and the connection to the national network.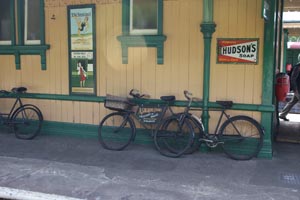 Some of us took the opportunity to travel there by train and meet the first train of the day to Sheffield Park. Others went by car and started at the Sheffield Park end and we all met up at various times of the day along the line.
We were also fortunate that the Bluebell Railway was holding a model railway exhibition that weekend, so we had the best of both worlds, real railways and models.
To keep up with the numbers of people attending that weekend the railway was running a three train service.
A class 33 hauling Southern green Mk1 stock, 9F 92212 hauling a mixture of LB&SC Rlwy and SE&C Rlwy stock. The third service was provided by a Southern U-class locomotive, 1638, pulling a selection of teak Victorian coaches and one of the LNWR's observation saloons.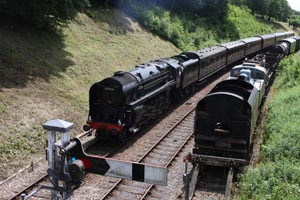 The weather was ideal. A nice sunny day but not to hot to make it uncomfortable.
Having the exhibition on that weekend also meant that some of the usual off limit areas were opened up to the public.
For instance the locomotive workshops and the new Atlantic build shed. The carriage workshops were also opened and some of the restoration work going on is amazing.
Timber framed carriages made from hardwood with perfectly cut joints. The satisfaction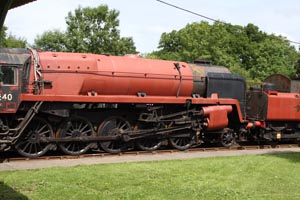 volunteers must get seeing an old rotting carriage come into the works and a gloriously restored piece of history leave for revenue service must be wonderful.
No wonder the Bluebell Railway is one of Britain's premiere preserved railways and is well worth a visit.
We had unlimited runs on the line, so were able to make use of all three trains and if a break was needed we could wander around taking pictures or meet friends old and new. Some of us had brought picnics on the trip so were able to sit quietly by the line and take in the atmosphere.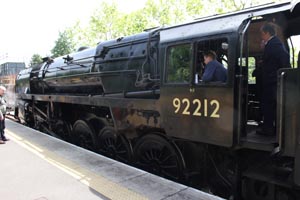 Every so often the sounds of the countryside were broken by a shrill whistle or horn in the distance. The points would clunk into place and the signals would clear with a clank. Porters and customers would start to rush around in anticipation of the next arrival. The train would slowly pull into the station and stop with a squeal of brakes. Doors would open and close with a bang, the guards whistle would blow and the the train would pull slowly out of the station. All the signals would return to danger and as the beat of the locomotive receeded into the distance the sounds of the countryside would take over again.
At least until the next arrival.