ABOUT US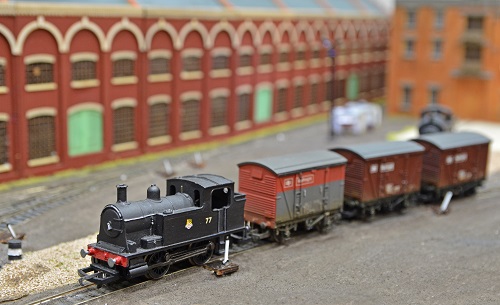 The Hampton Court Model Railway Society is a local model railway club that meets at Tolworth Recreation Centre (in the Hunt Hall) in Tolworth, South West London every Tuesday evening from 8pm until 10.00pm.
New members are always welcome. We have six layouts in two gauges, although our members have a wide variety of interests and we try to cater for all aspects of the hobby.
Our current project is a complex N-gauge layout called Honeyford upon Avon, inspired by the Stratford upon Avon and Midland Joint Railway station and the adjacent Great Western Line to Cheltenham and set during the Second World War in 1940.
Our membership is drawn from across the local area, from Tolworth, Chessington, Claygate, Hook, New Malden, Berrylands, Epsom, Ewell, Surbiton, Kingston, Esher, Hinchley Wood, Long Ditton, Thames Ditton, East & West Molesey, Walton and Wimbledon.
Members can be as active as they wish, either getting involved in building or operating our layouts, running their own trains on the layouts, bringing kits or projects to work on, or just simply sitting and talking to others with a similar interest in model railways.
Membership costs just £20 a year, with a weekly attendance fee of £2.
Our annual exhibition 'Tolworth Showtrain' is one of the biggest model railway shows in South East England and is held in November. It helps fund the Society.
If you are interested in becoming a member, come down and meet us one Tuesday evening, or fill out one of our membership forms and send it to the address printed on the bottom. But we won't expect you to sign up right away.